Order Steve's New Book, "Are You Ready, Steve?" HERE!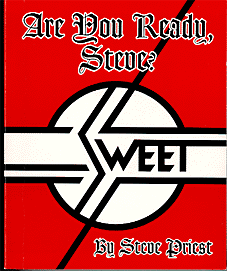 Hello, all! If you've been looking for Steve's new book and can't find it, you've come to the right place!
"Are You Ready, Steve?" covers Steve's most memorable personal experiences as a member of The Sweet, along with the trials, tribulations, and tragedies that Mick Tucker, Brian Connolly, Andy Scott, and Steve truly went through during it all.
There is also never before seen pictures of The Sweet during various stages of their musical careers together.
"Are You Ready, Steve?" is not only a must have for die hard Sweet fans. It also is a great documentary telling a story of the rise and fall of a great rock band in the 70's, a period when "sex, drugs and rock and roll" was a way of life.
Steve will personally autograph each book! Order now!
USA:
Steve Priest
P.0. BOX 1044
La Canada, Ca.
91012-1044
Germany:
Ralph Grimm
Seehofstr 18
60594 Frankfurt, Germany
The cost is $30.00, plus $10.00 shipping and handling.
Make checks payable to: Steve Priest
Payment by US checks or MO, IMO Travelers checks, US banknotes, or any foreign currency equivalent to amount in US.
Also Available Live in Denmark CD also signed by Steve cost $25